Getting here
Registration begins at 8:45am and our full schedule is now available.
The Crucible is in Sheffield City centre, on the corner of Norfolk Street and Arundel Gate.
Train
The Crucible is 5-10 minutes' walk from the train station and the transport interchange nearby.
Leave the train station, cross the road and walk straight up Howard Street, by Sheffield Hallam University.
Cross over Arundel Gate at the pedestrian crossing and Millennium Galleries is in front of you.
Walk up the obvious ramp to the right of the gallery entrance and continue along Surrey Street until Tudor Square and the theatres appear on your right.
To plan your journey by train please visit www.nationalrail.co.uk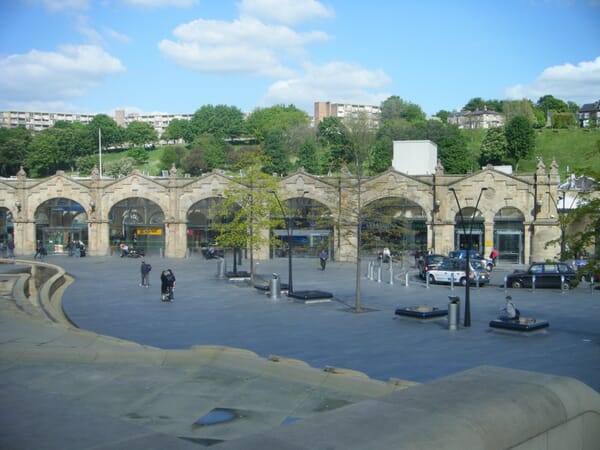 Bus or tram
The nearest bus stops are on Arundel Gate (50m) and High Street (300m). We are also close by to Sheffield Interchange. To plan your journey please visit www.travelsouthyorkshire.com
Tram and Park & Ride options
There are two Supertram Stops in close proximity to the Theatres; Castle Square and Cathedral (400m). Plan your journey here. There are also numerous park and ride options for the Tram, to see where you could park and ride please go to www.travelsouthyorkshire.com
Parking
The nearest car park is Q-Park's Charles Street car park, located on Arundel Gate. This is a multi-storey car park, offering 530 parking spaces as well as disabled and parent and toddler bays. The car park has secure entry gates and is fitted with bright lighting and CCTV cameras. Full details: www.q-park.co.uk/en-gb/cities/sheffield/charles-street/
Taxis
Private hire taxis can be booked via City Taxis on 0114 239 39 39, see citytaxis.com/contact-us/sheffield/ for details.
Uber is available in Sheffield.
Black cabs can be hailed in the street, there are taxi ranks at the Train station and at Barkers Pool. A map of taxi ranks is available here www.sheffield.gov.uk/home/parking/taxi-ranks
The afterparty
Castle House, Angel St, Sheffield
S3 8LS
View in Google Maps
Kommune is located in Castle House and is home to a delicious variety of local food and drink vendors. From hoppy IPAs to fancy cocktails and mocktails, and wood-fired pizzas to seared tuna, there's something to suit everyone's tastes and dietary needs.
Please keep the wristband you will be given in the morning.
Kommune does not accept cash payment: bring a payment card with you if you plan on making purchases.
Due to venue licensing restrictions, this event is only for people aged 18 and over.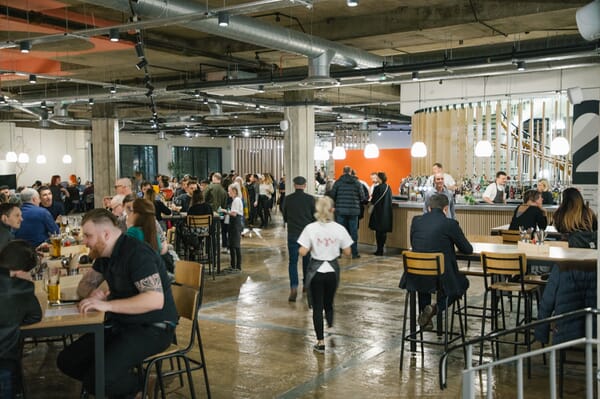 About Sheffield
Eat & drink
There are loads of great places to eat and drink in Sheffield these days, here our some of our favourites near the Crucible. Take a look at Our Favourite Places for more inspiration.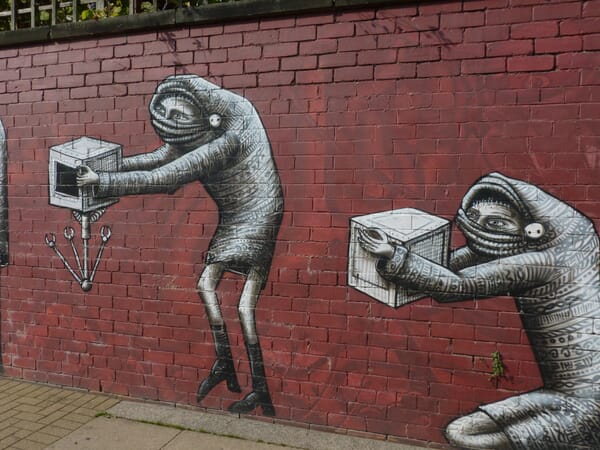 Things to see & do
Work

ok, not the most fun thing to do, but if you need some space to work during your visit our friends at Sheffield Tech Parks have a very reasonably priced co-working drop-in day rate.
tropical plants and art (not quite) in the same building.
we're a creative lot when it comes to drawing on walls.
learn about Sheffield's industrial heritage. When they set the River Don Steam Engine going it gets proper loud.
the beautiful Peak District is easily accessible by train, bus and bike from Sheffield City Centre.
See Our Favourite Places for more ideas.

"Crucible Theatre" by timo_w2s is licensed under CC BY-SA 2.0